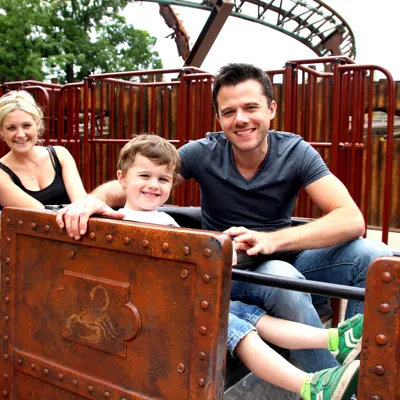 ARE YOU A BRAVE ADVENTURER?
Scorpion Express is located in Mexicana, a land of sweeping sands and gold mines. As you head towards the town you'll soon see signs that all is not quite as it once was and it will soon become clear that where locals once lived, the scorpions have taken control. Adventurers must then board the old train of the Scorpion Express as it's the only way to cross the ruins of the gold mines in this abandoned town!
Scorpion Express is a fun ride for all the family and brave young adventurers can experience their first rollercoaster thrill. Watch out for surprises at every turn including fire and water effects, as with unstable mines guarded by the giant Scorpion anything could happen – try not to get too close!
FUN FACT: It was originally known as the Runaway Mine Train, which joined the Resort in it's first official year of opening as a Theme Park, in 1987
Ride Information
Adventurers must be a minimum of 0.9m tall.

Adventurers between the height of 0.9m and 1.1m must be accompanied by an adult 16 years or over.

Accompanying adults must sit next to the accompanied child on the onload side of the train to prevent crushing children if stopped in the helix.

Each row accommodates up to 2 Adventurers.

For safety reasons, this ride may not be suitable for Adventurers with torso measurements approaching 51 inches, as the lap bar may not be able to be secured and locked.

Not suitable for expectant mothers.

Not suitable for those with a fear of heights.

Not suitable for Adventurers with heart conditions, high blood pressure, back problems or neck problems.

Adventurers must have 3 fully working limbs in order to ride (prosthetic limbs do not count towards working limbs).

Due to evacuation purposes, Adventurers must be AMBULANT (able to walk unaided) to safely experience this ride.

Adventures may get wet on this ride.