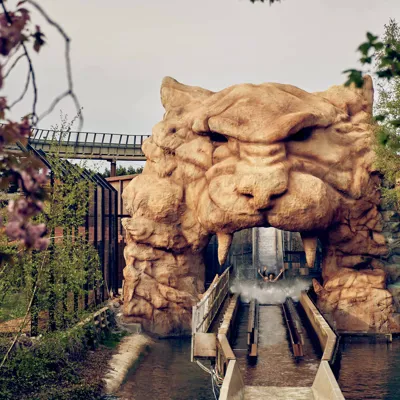 MAKE A SPLASH
Tiger Rock is an exhilarating log flume, where the whole family gets yet another unique view of the resident tigers as they journey alongside their innovative enclosure. Then, descend a misty waterfall drop, the ride's finale, right through the centre of a giant tiger's head carved into the imposing rock.
Developed in conjunction with Zoo experts, Land of the Tiger celebrates one of the world's most majestic and most endangered animals. Our Amur tigers are truly at the heart of the innovative enclosure, home to four Amur tigers, the world's largest tiger species.   
In a European first, the specially designed enclosure introduces overhead trails, allowing the tigers' freedom to roam, and guests to observe the species in a whole new way, right above their heads. Other areas allow guests not just to observe, but to 'interact' with the awe-inspiring animals in a variety of experiences, and together make amazing discoveries about the Amur Tiger via Chessington's own, Learn Your Stripes initiative.    
FUN FACT: Tiger Rock is part of Land of the Tiger, which is also home to four Amur tigers who came from Kolmarden, a Zoo and Theme Park in Sweden.
Ride Information
All Adventurers must be 1.2metres or above in height to ride.
Any Adventurer between 1.2metres and 1.3metres must be accompanied by an adult aged 16 or over.
Adventurers between 1.2metres and 1.3metres are not permitted to sit in the very front or back of any boat.
There is no guarantee of seeing our Amur tigers as they are free reign in their enclosure and may choose to be in their indoor homes, so may not always be visible.
Accompanying adults must be sat in the same boat.
Each boat accommodates a maximum of 5 Adventurers.
Maximum of 4 adults per boat.
Not suitable for expectant mothers.
Not suitable for Adventurers with heart conditions, high blood pressure, or anyone with back/neck problems.
Accessibility Information
Prosthetics
Permitted prosthetic limbs must be secured to the guest's body or removed before boarding
Non - Ambulant & Wheelchair Access
You must have full upper body strength including head and neck control and be able to brace against the forces.
Not suitable for non ambulant Guests but we are working on this
Guests must be able to sit up and hold themselves upright without assistance from a carer for the duration of the ride
Any leg amputations are not permitted on the ride even with prosthetics
Arm amputations above the elbow are not permitted
Evacuation
Guests must be able to walk unaided in case of an evacuation from the ride from height, which will require transferring onto and walking down steep steps independently, as well as potentially hilly terrain.
Missing Limb or Amputation Information
Guests must have a minimum of 3 full limbs, Below the elbow amputations only are permitted to ride
Guests are required to have a minimum of three full limbs to enjoy this attraction
Ride Effects
Adventurers will get wet on this ride.
Accessibility and Limb Difference Guides
A full list of restrictions are detailed in the Accessibility Guide and Limb Difference Guides below.