UNLIMITED DIGITAL PHOTOS
Get unlimited digital photos all day so you can relive your wild adventures again and again!*
Purchase in advance for just £20 and add all your groups' photos to one smartphone.
You can then conveniently view, download and share your photos directly from your phone.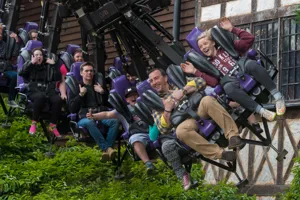 WHERE ARE DIGITAL PHOTOS AVAILABLE?
You can collect all your digital photos from the following places. Unlimited digital photos are a great way to build family memories you can treasure forever. 
• Gruffalo 
• Vampire 
• Dragons Fury 
• Tiger Rock 
• River Rafts 
• Jungle Rangers 
• Tomb Blaster 
• Zufari 
• Scorpion Express 
• Rattlesnake 
• Room on the Broom – A Magical Journey* 
• Sea Life 
• Licence Bureau 
 
*Subject to change and availability. Unlimited Digital Photos are available during main season opening dates only. Room on the Broom Animated Movie Experience is not included in offering..