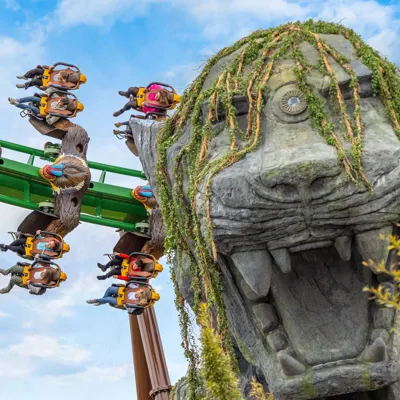 World of Jumanji!
Explore the World's first Jumanji themed land!
Escaped from the cinema and way beyond a board game, World of Jumanji sucks families in! Follow in the footsteps of Dr Bravestone, through a whole world of adventures to locate the Jaguar's Eye Jewel, lift the curse and save Jumanji! Brave adventurers will discover THREE new theme park rides, including the world's ONLY Jumanji rollercoaster, Mandrill Mayhem.
Mandrill Mayhem operates a virtual queue. Head to the Mandrill Mayhem page to find out more.
NEW THEME PARK RIDES AT WORLD OF JUMANJI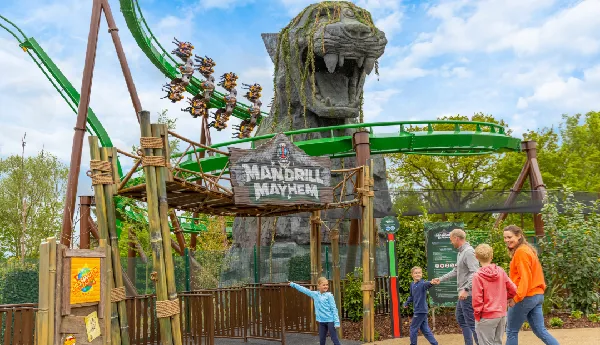 Mandrill Mayhem
Mandrill Mayhem is Chessington's first inversion! Sweeping riders at full speed through treetops on a hair-raising adventure spiralling up the summit of the 55ft Jaguar Shrine. For the first time ever, Chessington is introducing Virtual Queueing for Mandrill Mayhem.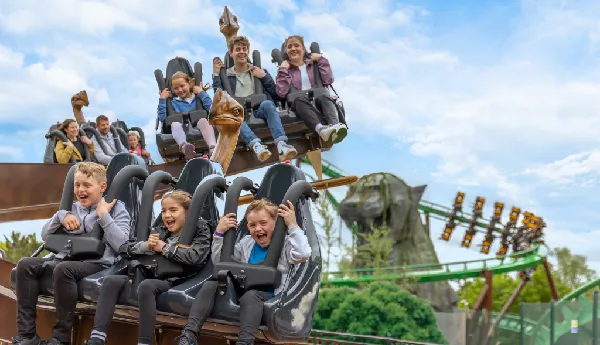 Ostrich Stampede
Ostriches may be flightless birds, but this is going to be a bumpy ride! Swerve a herd of stampeding ostriches on this whirlwind trip.
Mamba Strike
Black Mamba's are one of the fastest snakes, and when it strikes – you better watch out! Dodge the fangs on this dizzying, untameable ride.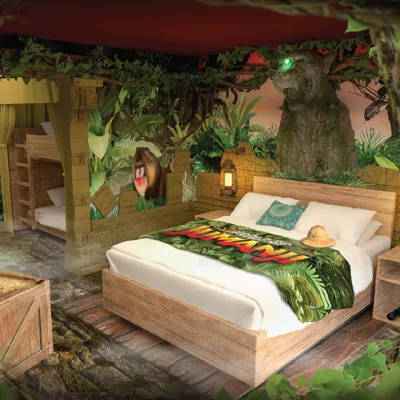 WORLD OF JUMANJI THEMED BEDROOM
Drop into a fully immersive jungle overnight stay where adventurers will be able to stay in a uniquely themed room. While grown ups nap at the foot of the Jaguar Shrine, kids catch some z's in bunkbeds under canvas in their own tent, with the mandrills and hippos of Jumanji nearby.
Experience over 40 rides & attractions
Save when you book in advance
Rainy day guarantee
Under 3's visit free!
Unlock a year's access to the UK's BIGGEST and best attractions
Passes available for every budget
Extra benefits including free parking, discounts and much more!
Discover More at World of Jumanji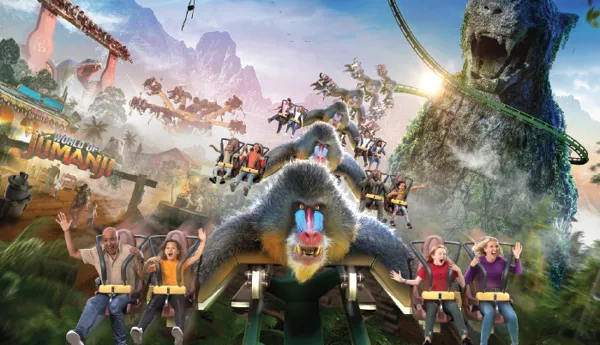 THE GAMES OF JUMANJI
There's a new wild adventure coming to resort. Before the World of Jumanji opens on the 15th May, you can play five epic games.
JUNGLE JOURNAL
Curious to know more on all things construction, fun facts and curiosities?
WORLD OF JUMANJI THEMED BEDROOM
Ahead of World of Jumanji opening in the theme park, be the first to sleep in one of six NEW Jumanji themed rooms opening Saturday 1st April* in the Chessington Safari Hotel.