Families' third adventure can be found in the bazaar. Dodge the fangs of the black mamba on a dizzying, untameable ride. There's not a moment to lose… Adventurers must jump on and hold tight – the black mamba is about to strike!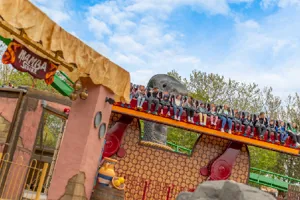 Mamba Strike
Dodge the fangs on a dizzying, untameable ride right in the heart of Jumanji.
Those between 1.2m and 1.3m must be accompanied by an adult over the age of 16, while those a minimum height of 1.3m can 'drop' alone.
Ride Information
Adventurers must be a minimum of 1.2m to ride.
Adventurers between 1.2 and 1.3m must be accompanied by an adult over the age of 16.
Not suitable for expectant mothers.
Not suitable for those with a fear of heights.
Accessibility Information
Prosthetics
All prosthetic limbs must be secured to the guest's body or removed before boarding any ride.
Prosthetics must not inhibit the required seating position
Non - Ambulant & Wheelchair Access
You must have full upper body strength including head and neck control and be able to brace against the forces.
This ride is suitable for non-ambulant riders, you must be able to transfer into the ride seat without assistance.
Guests must be able to sit up and hold themselves upright without assistance from a carer for the duration of the ride
Evacuation
In the event of an evacuation you must be able to step down with assistance from the ride in the event of a breakdown
Missing Limb or Amputation Information
Guests must have a minimum of 3 full limbs, above and below the elbow amputations only are permitted to ride
Accessibility and Limb Difference Guides
A full list of restrictions are detailed in the Accessibility Guide and Limb Difference Guides below.