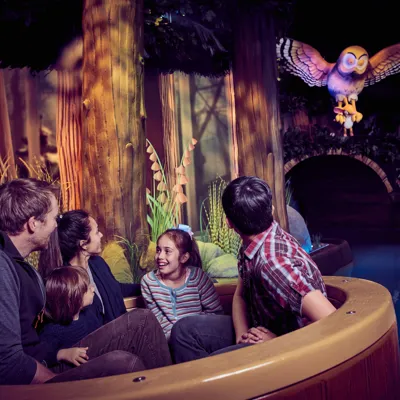 Britain's
WILDEST
Adventure
FREE TICKETS
We are delighted to once again offer our local residents the opportunity to visit Chessington World of Adventures Resort for FREE in 2020.
For your wildest adventure yet, here is what you need to do:
Pre-book your entry for the day you plan to visit
Bring proof of address (utility bill or similar) from postcodes KT9 1, KT9 2 and KT22 0
Bring photo identification
Visit a Ticket Booth at either the Lodge Gate or Explorer Gate admissions and ensure to bring your printed pre-booked ticket confirmation or on your phone to show to the admissions host to claim your tickets to be used that day
One collection per household and all tickets to be used on the same day
Tickets are valid until 28th November 2020 excluding closed days, so you can use your tickets on any day this season, including the school holidays!
TERMS & CONDITIONS
Pre-booking is essential for entry.
This benefit is only for our immediate local residents living in postcode areas KT9 1, KT9 2 and KT22 0.
Offer is limited to 4 free tickets per household.
Tickets are non-transferable, cannot be sold and no cash alternative will be offered.
Proof of address and identification required.
All 4 tickets must be used on the day of collection. We regret that we are unable to offer the 'splitting' of tickets for multiple visits.
Exchange or sale of tickets for profit is prohibited.
Visitors under 3 years of age enter Chessington World of Adventures free of charge and will therefore not need a local resident's ticket. Visitors under 12 years of age must be accompanied by a person aged 18 years of age or over.
CHESSINGTON LONG TERM DEVELOPMENT PLAN
Thanks to all those that attended the public exhibition events and provided comments on the emerging Long Term Plan proposals for future development at Chessington World of Adventures Resort. We are currently reviewing the comments received and developing the draft Long Term Development Brief with a view to submitting the document to Kingston Council in due course. We will continue to keep you updated of progress.