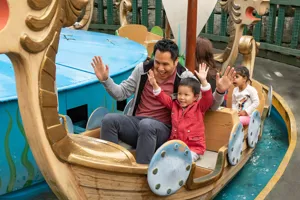 GENTLE RIDE ON THE HIGH SEAS
We've tamed these friendly Sea Dragons so that little adventurers can hop on board a boat and enjoy a gentle ride round and round on the high seas.
Ride Information
Adventurers must be a minimum of 1.1m tall to ride unaccompanied. Accompanying adults must be aged 16 and over.

Accompanying adults must sit in the same boat as the Adventurer they are accompanying.

Each boat accommodates up to 6 Adventurers.

Each boat accompanies a maximum of 3 adults.

Adventurers who are non-ambulant are permitted to ride, but must meet the following conditions:

- Must have a minimum of 2 companions to assist with loading on and off

- Wheelchair users must be able to transfer unaided.

- Adventurers must be able to hold themselves upright without assistance from a carer for the duration of the ride.

- Adventurers must be able to brace against the ride forces.