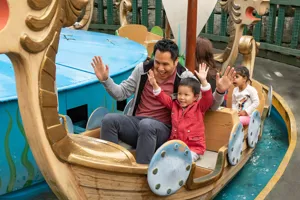 GENTLE RIDE ON THE HIGH SEAS
We've tamed these friendly Sea Dragons so that little adventurers can hop on board a boat and enjoy a gentle ride round and round on the high seas.
Ride Information
No Minimum Height.

Adventurers under 1.1m must be accompanied by an adult aged 16+ (adults can accompany up to 4 adventurers per adult).

No Maximum Height.

Accompanying adults must be in the same boat as children under 1.1m.

Adventurer's must be able to transfer with the assistance of a carer.