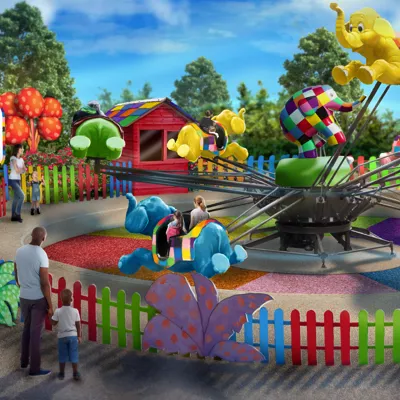 FAMILY FUN WITH ELMER
Everyone's favourite patchwork elephant, Elmer, created by David McKee and published by Andersen Press has landed. Fans of the Children's picture-book character will be able to pick a colourful elephant to take them to the skies on the flying carousel.  
HEIGHT RESTRICTIONS
No Minimum Height
Children under 1.1m must be accompanied by an adult aged 16+
No Maximum Height
RIDE STATS
LOCATION: ADVENTURE POINT
NUMBER OF ELEPHANTS: 12 (+ ELMER)
RIDE TYPE: FLYING CAROUSEL
CAN I RIDE? CHILDREN UNDER 1.1M MUST BE ACCOMPANIED BY AN ADULT
For safety reasons, adventurers must be properly secured in the ride seat, which means this ride may not be suitable for adventurers with torso measurements approaching 51 inches.
Elmer's Flying Jumbos opens 2020!