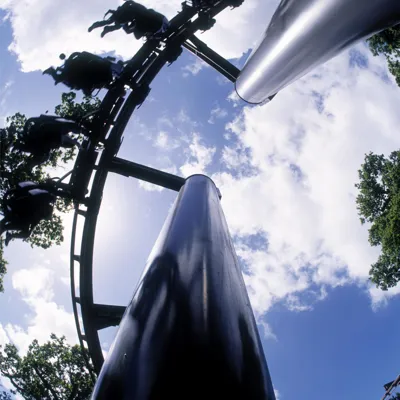 Soar through the skies
Just like a bat out of hell, this family-friendly rollercoaster gets you soaring through the skies and flying over the treetops with your legs dangling below you. It's fang-tastic and once bitten, you'll want to fly again and again.
FUN FACT: Vampire's organists face was based on an old Phil Collins wax figure. The designer, John Wardley, has also worked on other rides such as Nemesis at Alton Towers.
HEIGHT RESTRICTIONS
Minimum Height is 1.1m
Children under 1.3m must be accompanied by an adult aged 16+
Maximum Height is 1.96m
Chest size limit 51 inches
Ride Information
RIDE TYPE: ARROW SUSPENDED SWINGING ROLLERCOASTER
Our disabled entrance is accessible through the Trail of Kings
Not suitable for Adventurers with heart conditions, high blood pressure, back problems or neck problems
Not suitable for Adventurers with leg casts above the knee
Not suitable for Adventurers with arm or wrist casts
Not suitable for non-ambulant Adventurers
Not suitable for expectant mothers
This is a dark and scary ride with smoke and light / laser effects. May not be suitable for Young Adventurers or those with breathing difficulties
Vampire requires a minimum number of riders to run which is subject to delays
Ride is subject to availability
Vampire opened in 1990
'Best Theme Park Family Rollercoaster' Award Winner
In the 2021 UK Theme Park Awards Vampire was awarded a Silver medal in the 'Best Family Rollercoaster' category.