Room on the Broom - A Magical Journey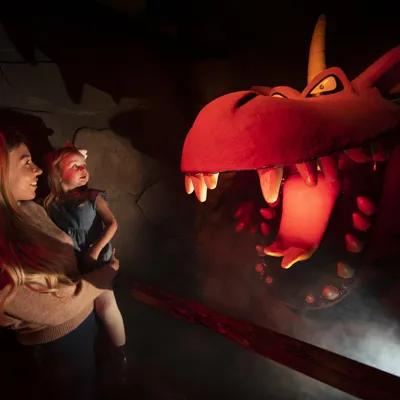 EMBARK ON A SPELLBINDING ADVENTURE!
Discover our spellbinding adventure, Room on the Broom - A Magical Journey! Experience the much-loved children's story coming to life as you visit the enchanted library, the start of your magical journey...
Visit the enchanted library and walk-through the pages of the book written by Julia Donaldson and illustrated by Axel Scheffler...
Help the Witch as her hat, bow and wand are sent tumbling to the ground. Encounter Cat, Dog, Bird and Frog on your journey. Search high and low in the trees, fields and reeds to help find the lost belongings. Brave the Dragon, who fancies 'Witch and chips' for his tea!
Is there room on Witch's 'truly magnificent broom'?
FUN FACT: Before Room on the Broom - A Magical Journey landed at Chessington, goblins inhabited the Mansion in the form of 'Hocus Pocus Hall'
AGE & HEIGHT RESTRICTIONS
May not be suitable for under 4's
Children under 1.1m must be accompanied by an adult aged 16+
No Maximum Height
Attraction Information
LOCATION: ADVENTURE POINT
ATTRACTION TYPE: WALK THROUGH
This attraction is dark and uses strobe and UV lighting throughout
This attraction has tight corridors. Adventurers in larger wheelchairs or mobility scooters should speak to a host prior to entry
Room on the Broom - A Magical Journey opened in 2019