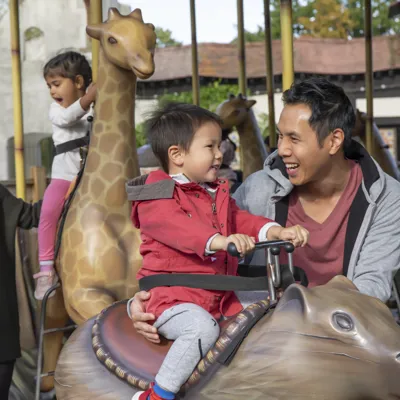 IN THE HEART OF THE PARK
A fun carousel ride, suitable for all ages and accessible for guests in wheelchairs to ride. You just need to pick an animal and watch out for the splash of water as you journey around the Adventure Tree in the heart of Adventure Point!
RIDE INFORMATION
Adventurers under 1.3m tall must be accompanied by an adult 16 years or over.
Accompanying adults must stand next to the Adventurers they are supervising if they are sat on an animal. They must stand on the inside of the animal away from the edge of the ride, to lower the risk of them stepping off whilst the ride is in motion. Paw prints are printed on the floor as a guide for where accompanying adults should stand
Accompanying adults must sit with the Adventurers they are supervising if they are in a spinning tub, on the chariot or on a wheelchair accessible bench.
Each animal accommodates 1 Adventurer.
Each spinning tub accommodates a maximum of 5 Adventurers, a maximum of 4 adults.
Not suitable for Adventurers with heart conditions, high blood pressure, back problems, or neck problems
Accessibility Information
Prosthetics
All prosthetic limbs must be secured to the guest's body or removed before boarding any ride.
Removed prosthetics are done so at the guests own decision.
Prosthetics must not inhibit the required seating position.
Non - Ambulant & Wheelchair Access
This ride is suitable for ambulant and non-ambulant guests
Wheelchair users that are unable to transfer may use the wheelchair park on the ride
If siting on an animal guests must be able to sit up and hold themselves upright with assistance from a carer for the duration of the ride
Fully non ambulant persons must have 2 carers (1 each side)to assist with remaining upraight when sitting on an animal
Evacuation
Staff will aid guests with instruction on evacuation in the event of such an incident.
Missing Limb or Amputation Information
Guests with any combination of amputation, limb difference or prosthesis can experience this attraction
Accessibility and Limb Difference Guides
A full list of restrictions are detailed in the Accessibility Guide and Limb Difference Guides below.