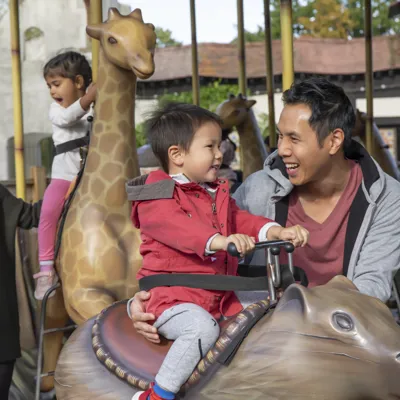 IN THE HEART OF THE PARK
A fun carousel ride, suitable for all ages and accessible for guests in wheelchairs to ride. You just need to pick an animal and watch out for the splash of water as you journey around the Adventure Tree in the heart of Adventure Point!
RIDE INFORMATION
Adventurers under 1.3m tall must be accompanied by an adult 16 years or over.
Accompanying adults must stand next to the Adventurers they are supervising if they are sat on an animal. They must stand on the inside of the animal away from the edge of the ride, to lower the risk of them stepping off whilst the ride is in motion. Paw prints are printed on the floor as a guide for where accompanying adults should stand
Accompanying adults must sit with the Adventurers they are supervising if they are in a spinning tub, on the chariot or on a wheelchair accessible bench.
Each animal accommodates 1 Adventurer.
Each spinning tub accommodates a maximum of 5 Adventurers, a maximum of 4 adults.
Not suitable for Adventurers with heart conditions, high blood pressure, back problems, or neck problems
Non-ambulant Adventurers are only permitted to sit on an animal if they are assisted by 2 carers and lifted easily.