The Gruffalo River
Ride Adventure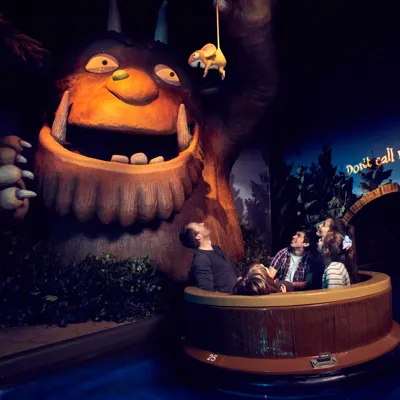 Journey along the lazy river
Join your favourite Gruffalo character Mouse on a magical riverboat journey through the deep dark wood. As you float down the lazy river, the world of The Gruffalo will magically unfold in front of your eyes, with exciting twists and turns along the way!
Ride Information
Adventurers under the height of 1.1m must be accompanied by an adult (an adult is someone over the age of 16 years).

Accompanying adults must sit in the same boat and can therefore only accompany up to 4 children.

A maximum of 5 Adventurers to a boat.

Maximum of 4 adults per boat.

Not suitable for expectant mothers.

Not suitable for Adventurers with heart conditions, high blood pressure, back/neck problems.

Adventurers are required to walk unaided in case of an offload and therefore non- ambulant Adventurers are not permitted to ride unless under the height of 1.1m and accompanied by a carer who can carry them safely on to and off the ride.

Not suitable for Adventurers with epilepsy as strobe lighting is used.

Adventurers will get wet on this ride.