BOOKING YOUR 2023 SCHOOL TRIP
If you're interested in Britain's Wildest Classroom, please fill in our provisional booking form.
We hope we can welcome you and your pack very soon!
Book Now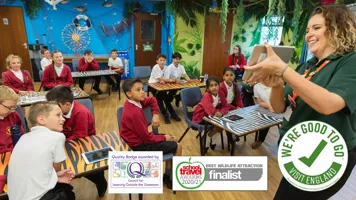 BRITAIN'S WILDEST CLASSROOM
We get that organising a school trip can become WILD, which is why the team here at Chessington World of Adventures Resort want to take away that stress.
Please download our Adventurers Pack to find out everything you need to know before you visit us.
What to expect on your visit:
Full day entry to Chessington World of Adventures Resort
Free teacher tickets 1 for every 5 primary students and 1 for every 10 secondary students
Free coach and minibus parking in our designated coach car park
Free teacher planning tickets for 2 teachers to visit us on any off peak open day before the trip, once payment has been made
Pre-completed risk assessment to save that tricky paperwork and meet your student's needs
Students with additional needs can apply for our Ride Access Pass, we ask you provide us with the relevant documentation. Please email schoolbookings@chessington.co.uk 
We are proud to announce that we have won the award for Best UK Attraction at the 2023 School Travel Awards! 

SIGN UP HERE FOR NEWS AND EVENTS
Sign up to our schools mailing list to receive information about new news, events and upcoming workshops!