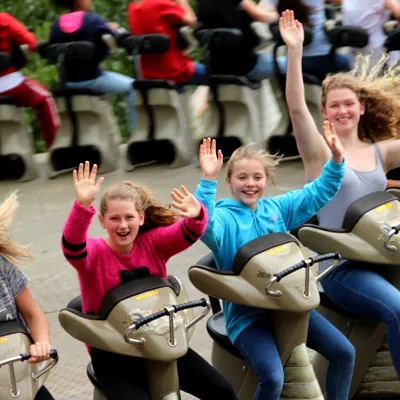 A RIDE WITH A BITE...
Rising from the ruins of Wild Asia, the untamed KOBRA takes you on a thrilling ride, spinning through the air as you travel backwards and forwards on a 90 metre track at an awesome 43mph. Adventurers beware, this is a ride with some serious bite.
FUN FACT: You can see the tigers from this ride if you look close enough!
Ride Information
Minimum Height is 1.2m.

No Maximum Height.

Chest size limit of 51 inches

 

Not suitable for Adventurers with heart conditions, high blood pressure, back problems, neck problems or expectant mothers.

Not suitable for Adventurers using a moonboot or those with leg casts.

Adventurers must have a minimum of 3 full limbs, this ride is not suitable for those with leg amputations or arm amputations above the elbow.

Due to evacuation procedures, this ride is not suitable for non-ambulant Adventurers.

For safety reasons, Adventurers must be properly secured in the ride seat.

Adventurers must be able to sit upright unaided and be able to brace themselves against the forces of the ride.