Welcome to World of Jumanji!
Friday May 5th 2023
Chessington World of Adventures Resort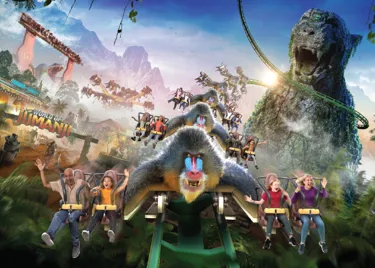 After many months of planning and a lot of hard work, we are very excited to be just a few weeks away from the official opening of World of Jumanji on the 15th May 2023!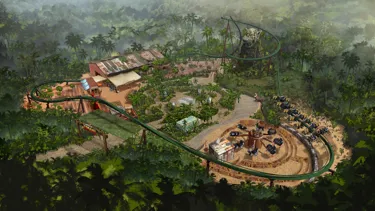 The team have worked tirelessly on the build of the World's first Jumanji themed land – in fact, in the time it's taken to construct this exciting land, you could have watched Jumanji: Welcome to the Jungle 1,368 times!  
The single largest investment in Chessington's history, World of Jumanji is packed with themed activities including a maze of pathways – some trickier to navigate than others – based on the iconic Jumanji board game, as well as delicious refreshments and merchandise. ​
As the World's first Jumanji rollercoaster and Chessington's first inversion rollercoaster, we could not be more excited to introduce Mandrill Mayhem! 
For the first time ever, Chessington is introducing Virtual Queueing for Mandrill Mayhem so we can give our explorers the best experience at Britain's Wildest Adventure! ​
Using a smartphone, you MUST reserve your place in the virtual queue for FREE to ride Mandrill Mayhem, ON THE DAY when visiting. When the time to ride approaches, you will be notified and will be invited to enter the queue line for Mandrill Mayhem within a set time frame.
The virtual queue for Mandrill Mayhem opens from 9.45am ON THE DAY of your visit via our Reserve & Ride website Reserve & Ride (reserveandride.co.uk) which can also be accessed via the Chessington app or by scanning the QR codes located at the Resort. If you are unsuccessful in acquiring a place in the virtual queue at 9.45am, more capacity will be released at regular intervals throughout the day.     ​
Dedicated timeslots to ride Mandrill Mayhem will be released exclusively for Ride Access Pass users at 10 past, half past, and 10 to the hour* via the Reserve & Ride website.​
When logged in to your account, redeem your Ride Access Pass, select Mandrill Mayhem, click 'Reserve' and then select one of the available timeslots to book your slot. Once your QR code appears and your slot is open, you will have 15minutes to arrive at the Ride Access Pass queue line for Mandrill Mayhem and get your reservation validated.​
Ride Access Pass users will be able to reserve a timeslot for Mandrill Mayhem while reserving another attraction of their choice as normal - you will not be timed out based on the virtual queue length on Mandrill Mayhem when your reservation is validated.​
Note that Ride Access Pass users may only book a timeslot to Mandrill Mayhem once per guest, per day.
 Watch the video below to find out how to join our virtual queue and enjoy a WILD ride on the world's first Jumanji rollercoaster. 
Virtual Queue - Ride Access Pass
* On a first come first serve basis
​Maximum height 1.95m, minimum height 1.2m. Those between 1.2m and 1.3m must be accompanied by an adult over the age of 16. 
Find out more