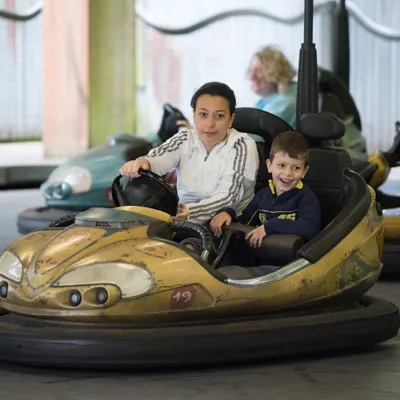 BUMPER CARS!
Get behind the wheel in Wild Asia!
FUN FACT: Tuk Tuk Turmoil used to be 'Roger the Dodger's Dodgems' in the then called, Beano Land!
Ride Information
The minimum height restriction is 0.9m.

Adventurers between 0.9m and 1.3m must be accompanied by an adult aged 16 or over and be sat on the left of each car, in the passenger seat. They are NOT permitted to drive the Tuk Tuk.

The accompanying adult MUST always be sat on the right-hand side of the car, in the driver's seat.

A maximum of two Adventurers per car.

Amputees are permitted; however, they must still be able to brace themselves. If riding alone, Adventurers must be able to use the pedals.

Not suitable for expectant mothers.

Not suitable for Adventurers with heart conditions, high blood pressure, broken limbs, back problems, or neck problems.