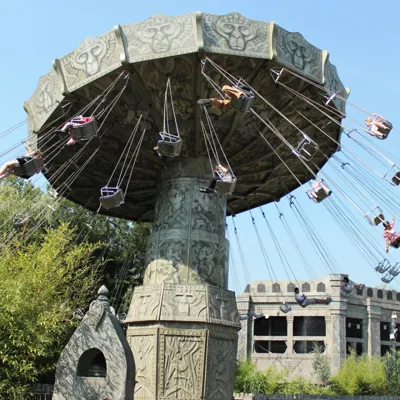 BRING OUT YOUR INNER MONKEY
Whatever your age, bring out your inner cheeky monkey on this fun ride that will have you swinging through the air, soaring round and round, getting higher and higher. Choose your seat carefully… you could get very soggy!
FUN FACT: Monkey Swinger originally opened in 2000 under the name Billy's Whizzer as part of Beano Land.
Ride Information
Adventurers must be a minimum of 1.2m tall.

For safety reasons, Adventurers must be properly secured in the ride seat, which means this ride may not be suitable for Adventurers with torso measurements approaching 51inches.

Adventurers must be able to brace themselves against the ride forces and hold on tight.

Not suitable for expectant mothers.

Not suitable for those with a fear of heights.

Not suitable for Adventurers with heart conditions, high blood pressure, back problems, or neck problems.

Adventurers must not swing or spin their chairs.

Adventurers must not hold onto or kick other chairs.

Adventurers must have 3 fully working limbs in order to ride (prosthetic limbs do not count towards working limbs)

Adventurers can ride if non-ambulant but must be able to:

- Wheelchair users must be able to transfer unaided.

- Adventurers must be able to hold themselves upright without assistance from a carer for the duration of the ride.