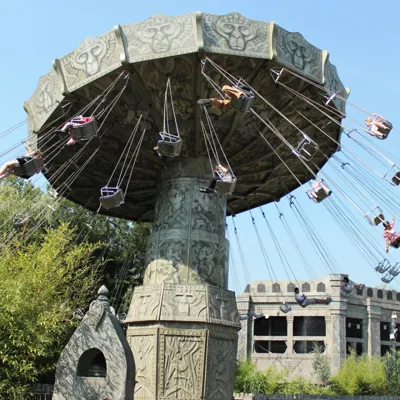 BRING OUT YOUR INNER MONKEY
Whatever your age, bring out your inner cheeky monkey on this fun ride that will have you swinging through the air, soaring round and round, getting higher and higher. Choose your seat carefully… you could get very soggy!
FUN FACT: Monkey Swinger originally opened in 2000 under the name Billy's Whizzer as part of Beano Land.
HEIGHT RESTRICTIONS
Minimum Height is 1.2m
No Maximum Height
Chest size limit is 51 inches
For safety reasons, Adventurers must be properly secured in the ride seat
Adventurers must be able to walk unassisted on and off the ride
Not suitable for Adventurers with heart conditions, high blood pressure, back problems or neck problems
Ride is subject to availability
Monkey swinger opened in 2010