FREE RETURN VISIT WITHIN 12 MONTHS
If it rains continuously for an hour or more during your visit, we'll give you a FREE day ticket for a return visit within 12 months.
If it rains continuously for an hour or more during your visit, we'll give you a FREE day ticket for a return visit within 12 months.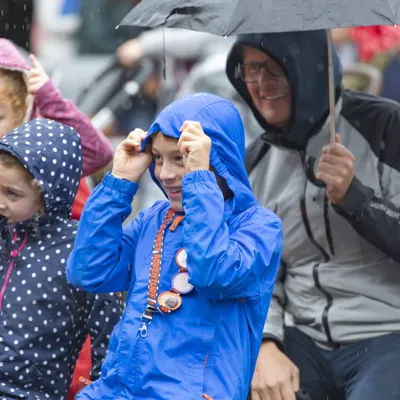 How do I get my free return visit?
You don't need to book again, just keep hold of your original tickets and bring them with you on one of the return visit dates below.
Please check our list of valid rainy days and return dates below, before you plan a return visit.
Perks of visiting on a rainy day:
FREE return visit within 12 months! (if it rains continuously for 1 hour or longer)
Visiting when the weather isn't so good often means the queues are shorter
There are many indoor attractions and restaurants to explore and enjoy
Our Rainy Day Guarantee does not apply to Annual Passes or tickets purchased on the day (online or at the gate). Free return ticket doesn't include any additional products purchased for your initial visit, including (but not limited to) Hotel stays, Fastrack or Meal Deals.
Rainy Day Guarantee return visit is not valid for special events, including but not exclusive to Winter's Tail and Animal Adventures Half Term. 
Visit Dates Eligible for FREE Return Visit
If you've visited on the below dates, you're eligible for a free return visit.
March 2019:

 

28
April 2019:

 

2, 6, 9 & 10 
May 2019: 4, 9, 11, 28 & 29
June 2019:

 

4, 7, 8, 10, 12, 13 & 14
July 2019:

 

20, 27 & 30
August 2019:

 

7, 12, 14 & 16 
September 2019: 24, 25 & 27 
October 2019: 4, 11, 12, 13, 18, 24 & 26
November 2019: 2 & 23
December 2019: 8
February 2020: 8, 9 ,15, 16 & 20
Exclusions & Closed Days
Your rainy day guarantee return free ticket will not be available on the below exclusion dates.
2020 Exclusion Dates:
1 August - 1 September
24 October - 1 November
21, 22, 28, 29 November
5, 6, 12 - 14, 17 - 24 December
Please ensure to check opening times and dates before you visit.
If you buy a Zootastic Weekend, Animal Adventures or Winter's Tail ticket, your FREE return ticket will only be eligible on Zootastic Weekends.
Tickets purchased as part of short breaks package are not entitled to Rainy Day Guarantee FREE return ticket.
Terms and Conditions
Free tickets will only be given upon presentation of the original ticket from your first visit. Photocopies and original booking references are not acceptable. Offer only valid when it rains continuously for one (1) hour or more. Rain is recorded during Theme Park opening hours and does not include Hotel Early Rider. Weather conditions will be recorded by Chessington World of Adventures Resort and our decision will be final.
No cash alternative is available, tickets cannot be sold. This offer cannot be used in conjunction with any other offer. Return visit is subject to availability, see website for opening dates and times. Free tickets will be issued like for like – an adult ticket in exchange for an adult ticket and a child ticket in exchange for a child ticket. Should it rain on your return visit, tickets will not be transferable. Car park charge and park regulations apply. Tickets must be purchased before the day of visit – tickets purchased on the day of visit are excluded. Excludes: Tickets purchased on the day, tickets purchased as part of a promotion on the day of visit, Schools, pre-organised events, park buy-outs, Merlin's Magic Wand tickets, open dated tickets, two day open-dated tickets, complimentary tickets, Annual Passes and tickets purchased using third party reward loyalty points.
Please note, if you have purchased a short break, you will receive one free return visit only, even if it rained on more than one day of your stay.