A ZOOTASTIC FAMILY DAY OUT
Friday January 27th 2023
Chessington World of Adventures Resort
half term, winter days out, zoo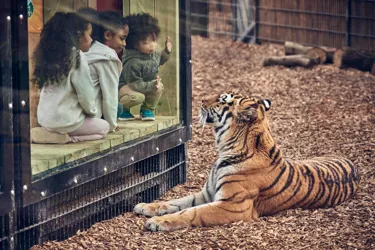 Looking for a truly WILD day out with the kids this Winter? Then enjoy a family trip to our Zootastic Weekends event running through January, February, and March.*
Discover our majestic animals with daily feeds and talks from our Zookeepers - from Amur tigers to Rothchild's giraffes, and Humboldt penguins to Asian short-clawed otters, who love a splash in the water!
Zootastic tickets are £14 per person when booked online in advance, or £16 per person when booked on the same day as visiting.
Here are some top tips for exploring the Resort this Winter and having a PAWsome day out:
Head to the Zootastic car park on your day of visit (search on Waze or Google Maps for Chessington Safari Hotel or enter into your sat nav: KT9 2NE), where guests will enter the Resort via our Lodge entrance. If you need to hire a buggy for your little rangers, speak to a member of our team upon arrival. Single buggy hire for the day is £10 and double buggy hire is £15 (subject to availability).**
Enjoy an all-day Zootastic adventure – we are open 10am to 3pm everyday during weekends in January, February, March, as well as weekdays during February half term. Save a copy of our Zootastic daily feeds and talks timings to your phone and add it to your favourites for ease of reference on the day. Alternatively, download our Chessington World of Adventures Resort app before you arrive.
There is no such thing as bad weather… Blow away the Winter blues with a day out in the great outdoors. We have delicious hot drinks, snacks and food in our Smokehouse BBQ restaurant to keep you and your little monkeys warm throughout the day too.
Collect a copy of our Zootastic Animal Trail leaflet from our Team and complete the questions as you make your way around the Resort. For those that answer all the questions correctly, a Zootastic Ranger certificate can be picked up from YooHoo Children's Zoo.
With over 1,000 animals to see, the big question is, which animal do you want to encounter first? Head to Trail of the Kings to catch a glimpse of lions, gorillas and bush dogs. Explore Amazu and visit the resident raccoons. Don't forget to venture through Wanyama Reserve too, where you can see zebra and ostrich. Plus, come nose-to-nose with giraffe as you head behind-the-scenes for an exclusive sneak peek! Check our mobile app before arrival for all the key details.
You can also to stay longer and make it a weekend away! Book a Hotel stay and receive a second Zootastic day for FREE!*** Book a selected date and you'll have an extra day to enjoy all the amazing animals and activities our Zoo has to offer, PLUS have some family fun with JJ from Cocomelon with meet and greets, exciting games and more in the Hotel!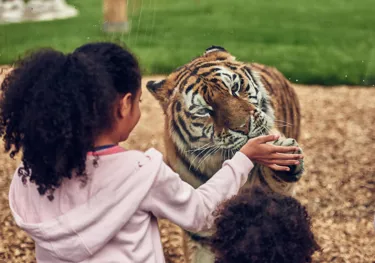 *Zootastic Weekends run across all weekends in January, February and March until Sunday 12 March and throughout weekdays during February half term (Monday 13 to Friday 17 February 2023). Please note that Zootastic includes Chessington Zoo, animal encounters and activities ONLY. The Theme Park and SEA Life aquarium are both closed.
**Buggy hire is a refundable deposit amount.
***Second Day Free applicable for February half term dates 11 to 18 February 2023 and the following selected Saturdays - 28 January, 4 and 25 February, 4 and 11 March 2023.