Our SEA LIFE Aquarium has now reopened following essential improvements made to better the experience for both our fishy inhabitants and for you, our guests.
The improvements made include things such as upgrades and replacements of our support systems for the Ocean display, alongside smaller habitats.
Whilst the vast majority of work will not be visible to visitors; it was essential for the fish and other species in our care.
We can't wait for you to explore SEA LIFE Aquarium again!
OUR SHORELINE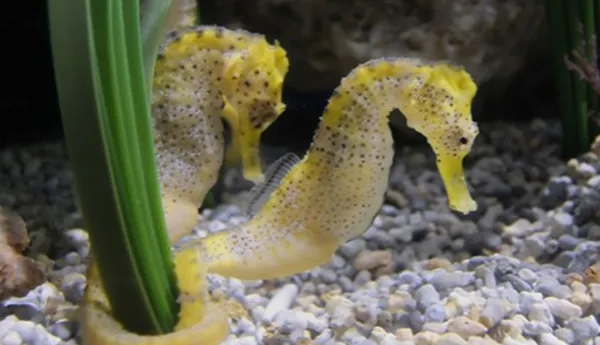 SEAHORSE
There are over 30 seahorse species and, unlike other fish, they have a thin skin, rather than scales and swim upright. Male seahorses, not females, give birth to their young, delivering up to 200 babies at a time from a front pouch on their body.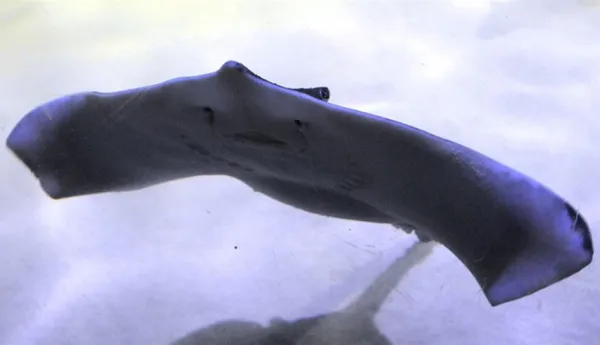 RAYS
With their flat bodies and long, thin tails, rays are graceful swimmers, but live mostly on the seafloor where they breathe by drawing in oxygenated water through the small openings on the top of their heads, called spiracles, and passing it out via their gills.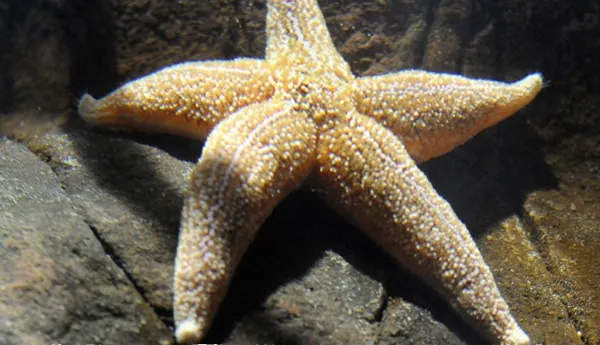 STARFISH
There are over 2,000 species of starfish in the world's oceans and while most have five arms, some have more – the Sun Starfish has as many as 40. Their underside is covered with hundreds of small, tube-like feet, enabling them to move about.
THE REEF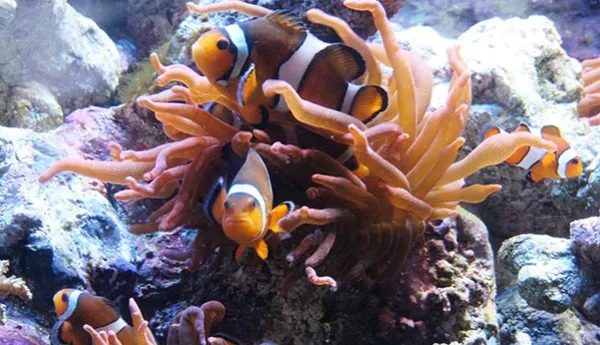 CLOWNFISH
Clownfish are easy to recognise due to their bright orange bodies and three distinctive white stripes. They live in the tentacles of the fish-eating anemone's and are protected from the anemone's lethal sting by a layer of mucus.
CLEANER FISH
They can grow up to 2.5 inches. They shed their exoskeleton on a regular basis. Adventurers can touch these in our touch-pool and they like to eat the dirt and dead skin from under our finger nails.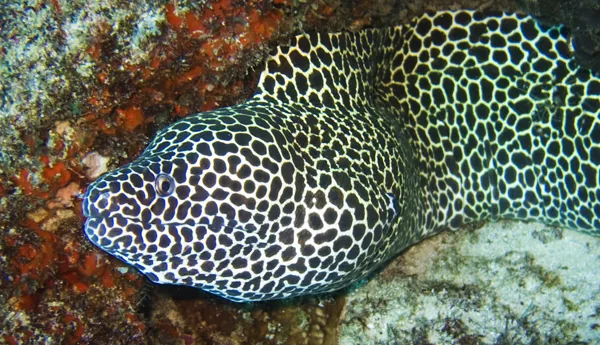 HONEYCOMB MORAY EEL
This is a large moray which can reach a maximum length of 300 cm. Its serpentine in shape body has a white to yellowish background color dotted with numerous black spots which latter vary in size and shape depending on the individual and on the environment in which the animals live.[2] Therefore, morays living on a reef with clear water will have less black spots than those of a turbid environment. The laced moray is widespread throughout the Indo-West Pacific area from eastern coast of Africa, Red Sea included, until Papua New Guinea and from south Japan to the Great Barrier Reef.
What else will your little explorers spot on The Reef?
Book your ticket to Chessington World of Adventures and enjoy entry to the Theme Park, Zoo & SEA LIFE!
OCEAN TUNNEL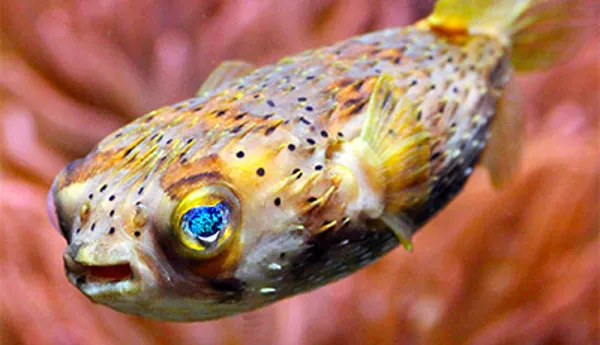 PORCUPINE PUFFERFISH
They are found over the muddy sea bottom, in estuaries, in lagoons or on coral and rocky reefs around the world in tropical and subtropical seas. The long-spine porcupine fish is an omnivore that feeds on molluscs, sea urchins, hermit crabs, snails, and crabs during its active phase at night.[7]They use their beak combined with plates on the roof of their mouths to crush their prey such as molluscs and sea urchins that would otherwise be indigestible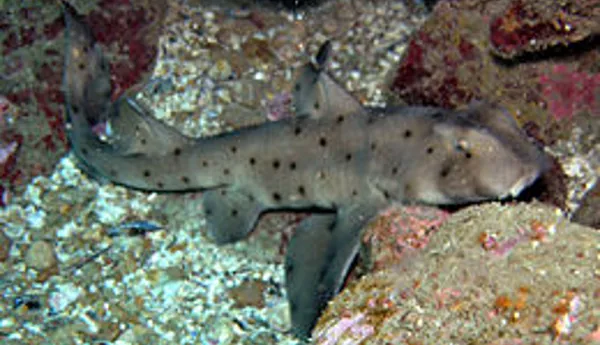 CALIFORNIA HORN SHARK
It is endemic to the coastal waters off the western coast of North America, from California to the Gulf of California. The horn shark can be recognized by a short, blunt head with ridges over its eyes, two high dorsal fins with large spines, and a brown or grey colouration with many small dark spots. Slow-moving, generally solitary predators, horn sharks hunt at night inside small home ranges and retreat to a favoured shelter during the day.
AMAZONIA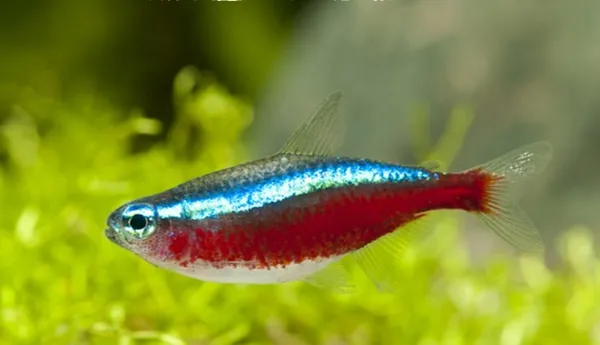 CARDINAL TETRA
Native to the upper Orinoco and Negro Rivers in South America, the Cardinal Tetra has an iridescent blue line along its side with vivid red colouring beneath it. A very small fish, it grows to just two-and-a-half centimetres in length.
PIG NOSED TURTLE
The pig-nosed turtle is unlike any other species of freshwater turtle. The feet are flippers, resembling those of marine turtles. The nose looks like that of a pig, having the nostrils at the end of a fleshy snout, hence the common name. The Pig Nose Turtle is omnivorous, eating a wide variety of plant and animal matter, including the fruit and leaves of figs, as well as crustaceans, molluscs and insects.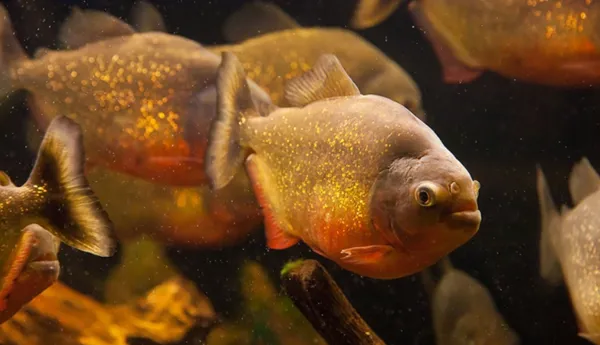 RED BELLIED PIRANHA
A species of piranha native to South America, found in the Amazon, Paraguay, Paraná and Essequibo basins, as well as coastal rivers of north-eastern Brazil. They are omnivorous foragers and feed on insects, worms, crustaceans and fish. Red-bellied piranhas often travel in shoals as a predatory defence, but rarely exhibit group hunting behaviour.