CREATING A NEW LAND…
Tuesday February 14th 2023
A long time ago (in May 2021 to be exact) we held a public consultation that would change Chessington World of Adventures Resort forever… enter Project Amazon.
We proposed a NEW land for the Resort, situated near Dragon's Fury – some might remember the space being home to 'The Bounce' back in 2019. The land would consist of a NEW rollercoaster alongside two other new rides. Project Amazon was the working title for the land… giving a snippet as to what was to come.
Our last new rollercoaster at the Resort was Dragon's Fury, which officially opened in March 2004… long before lots of you who visit today were even born.
After many months of planning and a lot of hard work behind the scenes, we broke ground on Project Amazon and construction commenced. The most notable first addition was the framework of a Jaguar Shrine, a prominent feature in the film Jumanji: Welcome to the Jungle, which sees Dr. Bravestone and his fellow players attempt to deliver the Jaguar's Eye Jewel back to the Shrine, save Jumanji and return back to reality.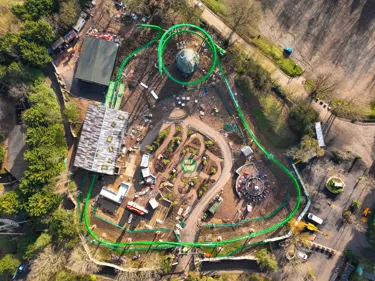 After countless weeks of speculation (and some eagle-eyed folk noticing a very familiar centre piece in our plans) we officially announced World of Jumanji in August 2022. Since then, our teams have been working around the clock to bring the box office hit film franchise to life, right on London's doorstep.
Fast-forward to today and more details have been released. The land will consist of a B&M winged, launch, shuttle rollercoaster called Mandrill Mayhem, which will see riders over 1.2m tall journey around the sites of Jumanji, encountering twists, turns, and even an inversion. Spiral to the summit of the Jaguar Shrine, before braving the whole track again… backwards on the World's ONLY Jumanji rollercoaster!
Whilst the meandering green track of the coaster borders the land, the two other NEW flat rides will be ones not to miss. Swerve a herd of stampeding ostriches on a whirlwind ride in the dunes on Ostrich Stampede and dodge the fangs of the black mamba on a dizzying and untameable ride in the heart of the bazaar on Mamba Strike.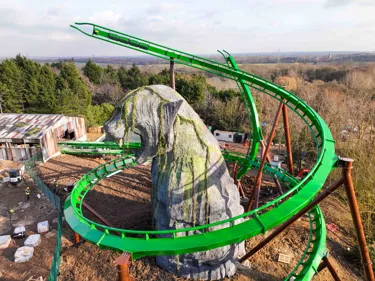 Alongside thrilling rides, you'll also encounter other Jumanji-themed activities when you explore, including a maze of pathways reminiscent of the boardgame in the 1996 film AND some delicious refreshments… but there's no cake!
As construction (and testing) continues, we'll be sharing more information here about World of Jumanji with some behind-the-scenes looks at what's to come…