Zafari Bar & Grill is the perfect spot for breakfast or dinner with a FURRRR-ociously tasty menu in the heart of the Savannah. With an African themed setting perfect for the whole family, sit bat relax and take in the incredible views across the Wanyama Reserve where giraffe, zebra, antelope, and other African species roam freely.
Serving an A 'La Carte menu, we've got tasty dishes from the grill including burgers and ribs to fresh sales and delicious Vegan friendly options. Perfect for little monkeys too, our Kids Menu offers an array of delicious meals and desserts fit for true Chessington Explorers!
The Zafari Bar & Grill is currently only available to guests staying in the Resort Hotels.
Resort Hotel, Safari Resort Hotel
VIEW SAMPLE MENU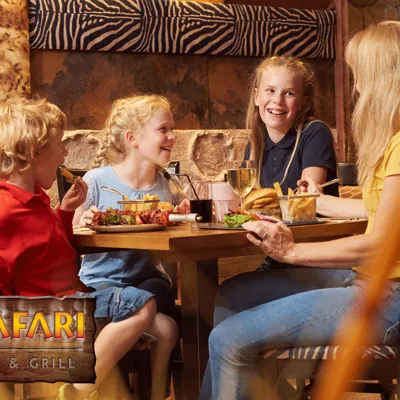 A RESTAURANT IN THE HEART OF THE SAVANNAH
• A 'la Carte Menu with freshly prepared food
• African themed restaurant and bar
• Views across the Wanyama Reserve
• Kids menu available
• Mobile ordering only
• Allergens and COVID 19 safe