Don't miss out on a unique and interactive dining experience set in the heart of a mystical ancient temple within the Azteca Hotel! Protected by wild animals and creatures, spot the fountain that was once the life force of the jungle protected by Leaf Cutter Ants and Piranhas plus you might spot a monkey or two along the way!
A magical setting for breakfast or dinner, discover a delicious carvery with some South American treats and a tasty selection of meat-free options as you explore the mystical ancient temple. Get up close and personal with our Red belly Piranhas and enjoy a light thunder and lightning show as you continue your wild adventure.
The Temple Bar & Restaurant is currently only available to guests staying in the Resort Hotels.
Resort Hotel, Azteca Resort Hotel
VIEW SAMPLE MENU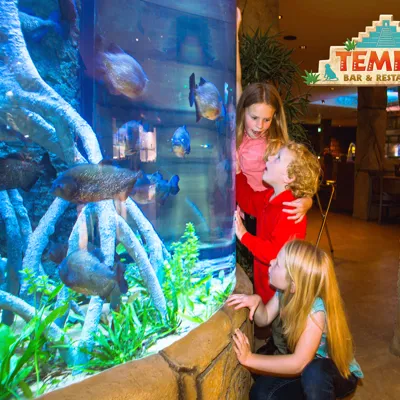 A WILD RESTAURANT EXPERIENCE
• Buffet style (currently plated for you)
• Immersive dining experience with ROARsome thunder and lightning show
• Discover Red Belly Piranhas & Leaf Cutter Ants
• Great option for little monkeys
• Allergens and COVID 19 safe