1st August - 4th September
Tickets from £39
Fun for Family Adventurers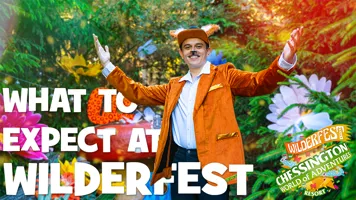 WILDERFEST IS BACK!
Get ready to Croc 'n Roll as Britain's WIIILDEST family music festival returns to Chessington World of Adventures Resort for it's second year this summer. Come rain or shine, you'll see the Resort come to life, with live music across our stages, roaming entertainment, mouth-watering festival food, plus a whole load of family summer fun - you'll be singing, dancing, and of course riding, all day long! Running from 1st August – 4th September, WILDERFEST is perfect for young festival-goers - so whether it's your first one ever, or your first one this year – don't miss out! Tickets now available - Wilderfest includes full theme park and zoo entry.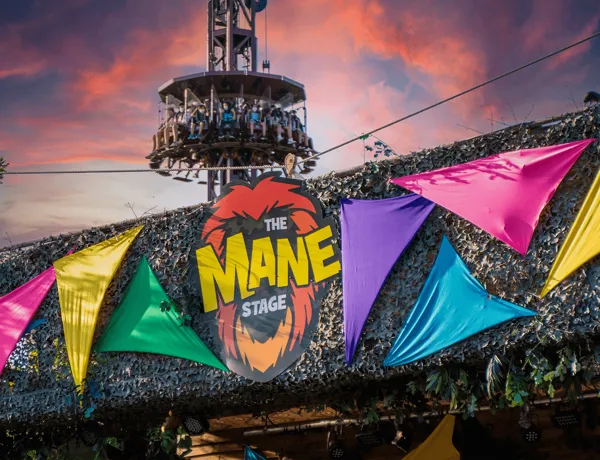 WHO HEADLINES AT WILDERFEST? YOU DECIDE!
We've got a brand-new LION-up as three new acts arrive at WILDERFEST. Be front row as this years' hottest musicians in the Animal Kingdom make their debut performances and battle it out on The Mane Stage to become the headlining artist of WILDERFEST 2022. Who takes the spotlight is in the paws of the crowd - will you ROAR loud enough for your favourite PURR-formance?! Read their bios below.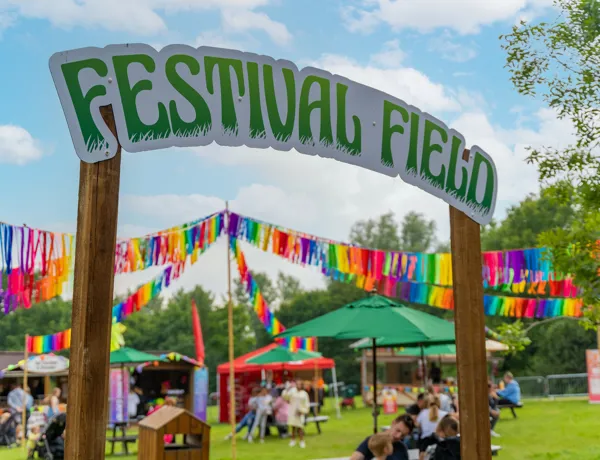 CHILL OUT ON FESTIVAL FIELD
Don't miss out on FESTIVAL FIELD - a whole area of the resort packed full tasty treats, delicious bites, fun games, and plenty to keep the whole family fuelled and entertained.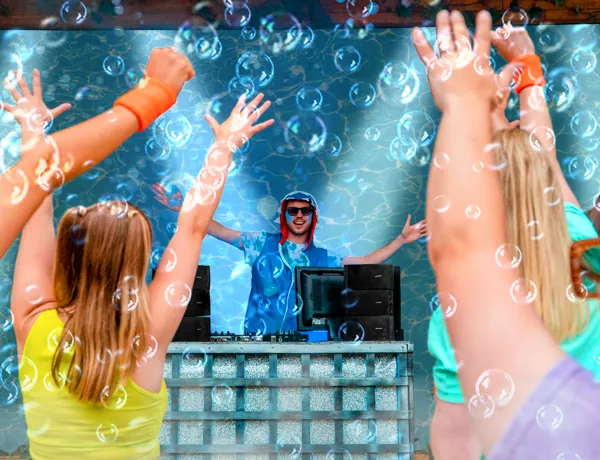 SOUNDS OF THE SUMMER
There's music everywhere this year with live acts to keep you grooving all day long. As well as the ROARsome artist starring on the Mane Stage you'll also find DJ Sharkey over at the Adventure Stage – he's resurfaced again this year Sink your jaws into his awesome set as he makes a splash once again this summer! Plus, don't miss The Croc'n'Rollers – the brand new live band who will be rocking out at the resort throughout WILDERFEST.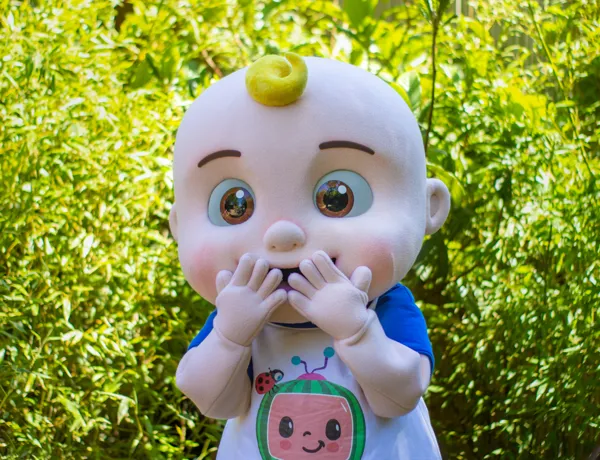 COCOMELON
Little Rangers visiting WILDERFEST this summer can embark on a musical adventure with family-favourite, CoComelon. Guests and fans alike can join JJ and our Chessington Park Ranger and take part in a sing-a-long experience down at the Mini Stage for an interactive activity that is PURRfect for pre-schoolers. You'll even get to meet JJ himself too!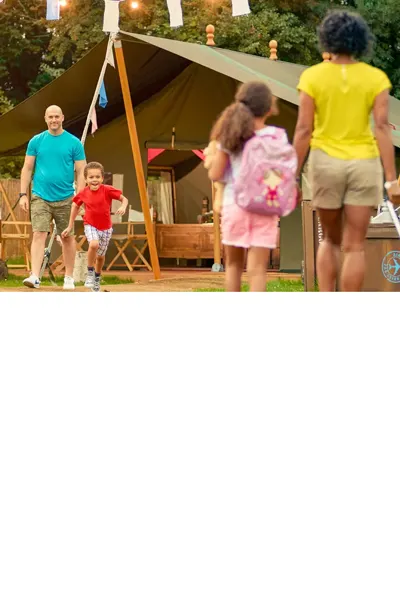 WAKE UP ON THE WILD SIDE FROM £75pp
Enjoy a night at Britain's Wildest Sleepover and benefit from being a stones throw away from all the festival action. As a guest in our Safari & Azteca Hotels or Explorer Glamping, you can enjoy a whole host of exclusive benefits! Park entry, early ride time, access to the Savanah Splash Pool, guest entertainment, a delicious breakfast and free parking are all included in your stay.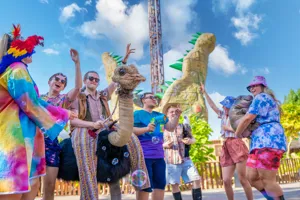 MEET THE GROUPIE TROUPE!
They're Wilderfest's biggest fans and they're absolutely WILD. Make sure you keep an eye out for the HISS-terical troupe of Groupies roaming the resort throughout the summer. They're the funniest bunch of festival-goers ever, so make sure you stop them an ask all about their favourite acts and who they think should headline this year's festival!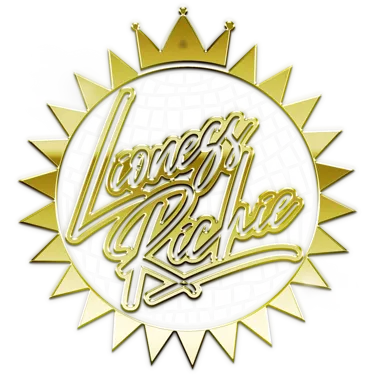 LIONESS RICHIE
Introducing Lioness Richie! This disco-queen is on the prowl for new fans to join her retro-revolution - she's captured the hottest sounds from the 70's and brought them back to the 21st century. This dance-floor diva is guaranteed to get you on your feet and boogieing to her hottest tracks as she PURRforms this year on the mane stage. Will you join her groovy pride and make this cool cat the star of WILDERFEST this year?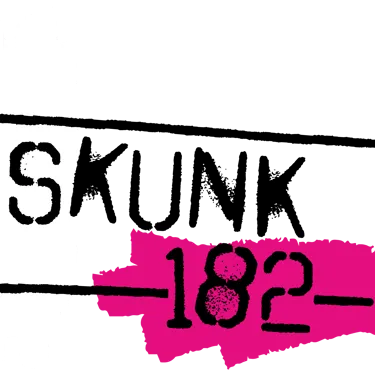 SKUNK 182
You've seen punk, you've heard funk, now get ready for Skunk182. He is the latest rock'n'roll star to emerge on the scene, but he's already kicking up a stink in the industry. He might not smell of roses, but his music is guaranteed to get your rock and roll spirit going. Get ready to watch this FURR-oscious little mammal take centre stage this year at WILDERFEST – but will he rock your world enough to steal the show?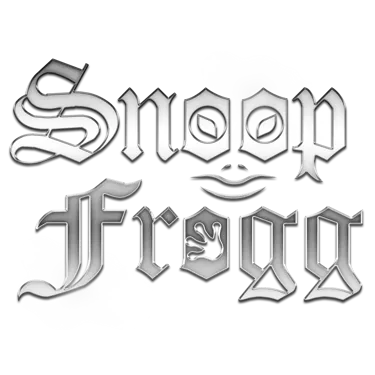 SNOOP FROGG
This hip-hop star has been hopping they're way up the charts but now they've landed at their biggest gig yet. Starting their career across the pond, they're now here at Wilderfest to make a splash on the biggest stage in the wild. Get ready to jump up and down to their latest hits, this year at WILDERFEST!
GREATEST HITS RADIO
WILDERFEST is in partnership with Greatest Hits Radio! They play the very best of the 70s, 80s and 90s from music icons including Elton John, Queen, Madonna, George Michael and Whitney Houston, and is home to some of the UKs most loved presenters including Simon Mayo, Mark Goodier, Jackie Brambles, Pat Sharp, Martin Kemp, Jenny Powell and Kate Thornton.
Playing the music that was the soundtrack to a generation, Greatest Hits Radio is home to the good times and the musical memories they represent. You can listen on FM, on digital, on your mobile or ask your smart speaker to 'Play Greatest Hits Radio'.
Listen Live
Includes entry to Theme Park, Zoo & SEA LIFE Centre
Pre-booking is essential for entry
Limited capacity
Rainy day guarantee - get a free return visit
OVERNIGHT STAY WITH PARK ENTRY
Includes entry to Theme Park & Zoo
A Delicious Breakfast
Themed & Standard Rooms
Early Ride Access
Free Parking
Family Entertainment
Visit Chessington again and again with a Chessington Annual Pass
Or visit more of the UK's best attractions with a Merlin Annual Pass.
Great Passholder perks
Exclusive discounts including dining, shopping and special events